Your Personal
Intelligent Knowledge Management Second Brain Zettelkasten Graph-view Online Mind-mapping Wiki
Notebook
Relanote is a unique note-taking app that helps bring order to chaos while still giving you the freedom to be creative. With Relanote, you can connect your thoughts and ideas, leading to the discovery of hidden insights, the creation of new connections, and the ability to tap into your wealth of knowledge by building a second virtual brain.
One of the key differences between Relanote and other traditional note-taking apps is that with Relanote, you can create a web of interconnected thoughts rather than just notes of arbitary size or form. This allows you to explore the deep connections between topics rather than just creating random collections of notes.
Relanote has been shown to significantly increase productivity and is used by a wide range of people around the world, including PKM and Zettelkasten enthusiasts, students, writers, small businesses, and large companies.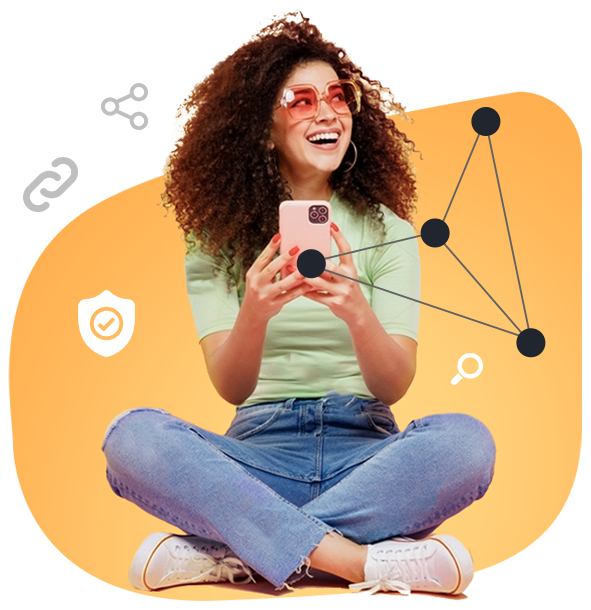 Features
Relanote is а tool that combines both hierarchical and non-hierarchical note-taking. The files and folders method allows you to bring some order to your notes, while the bi-directional links help in connecting the dots and seeing the bigger picture. By leveraging the power of both methods, Relanote adapts to your way of thinking.
Wiki-style interlinked notes with categories and tags
The ability to capture your thoughts anywhere using our free iOS, Android, and Microsoft apps
Notes sync in real-time across all your devices
Create custom graph views. Graph view helps visually map your notes and connections
Search and filter your notes and tags
The ability to share notes and entire notebooks publicly or privately (Pro only, see example of public note with links)
With our free plan you get:

100 notes, 10 notebooks and 100 MB storage
Unlimited categories, tags and links
Free iOS, Android and Microsoft apps with real-time cross device sync
Graph view with customization
Embed images and upload file attachments (PDF) to your notes
Record Audio notes
View your note edit history and restore any of the last 10 edits
Recycle bin for note and category recovery
Backup and export all your data in JSON format
Import and restore your backup in the app if needed
Flexible
organization
Relanote combines both hierarchical organization (files and folders) and wiki style bi-directional links. You can go even in more details with the additional help of tags.
Leave note organization on auto pilot

If you are looking to escape the hierarchical organization, no problem! By using bi-directional links, you can forget about sorting your notes in folders and subfolders since all your notes will be connected in a web of knowledge - graph.

Easy Links & Notes Creation

Unlike most apps, in Relanote you can create new notes on the fly without leaving the current note. In Relanote, notes can also be used as mean to link ideas and knowledge. For example, you can have a recipe that includes cheese, beef, and pasta. By linking the ingredients, a note for each ingredient will be created that points back to the recipe. Continue doing adding more recipes and at some point by opening the cheese note, you will see all recipes in which this ingredient is referenced.
The bigger picture
Graph
A visual way to discover hidden connections and see the bigger picture of your whole knowledge base. The Graph offers you a bird's eye view of all your notes and how they are connected. If you are utilizing the bi-directional linking organization instead of the hierarchical, the graph is the tool for making sense of your personal knowledge base. The more connected notes, the harder it becomes to find your way. To solve that, Relanote enables you to filter your notes based on tags you used in them.
All your ideas and thoughts - secured!
Full encryption
We believe that your knowledge, ideas and research are private and rightfully yours. Nobody but you and the people you shared your note with should be able to have access. To ensure this, all your data is first encrypted on your device and then stored on our secure servers. The process is relatively simple, but incredibly secure - your device -> your notes are encrypted -> stored on our secure servers -> decrypted when you are using Relanote.
All your ideas and thoughts - secured!
Share notes with the world
Notes, if you need them to be, can be more than a personal thing. You can share your ideas, thoughts, and research directly from Relanote. Sharing a public link to one or more notes is 1 click away. No account is required on the other side to view what you shared with them. The notes are accessible on the web only to those, who have the link. You remain in complete control and can revoke or manage the access at any time. The note you share from Relanote is dynamic - all changes are instantly available to the people you shared it with. Unlike static documents like PDFs, Word Files, and others, Relanote helps you collaborate better.
Dark and Light mode
Working late at night, having an eye condition or just enjoying the dark UI - the Relanote dark mode is here!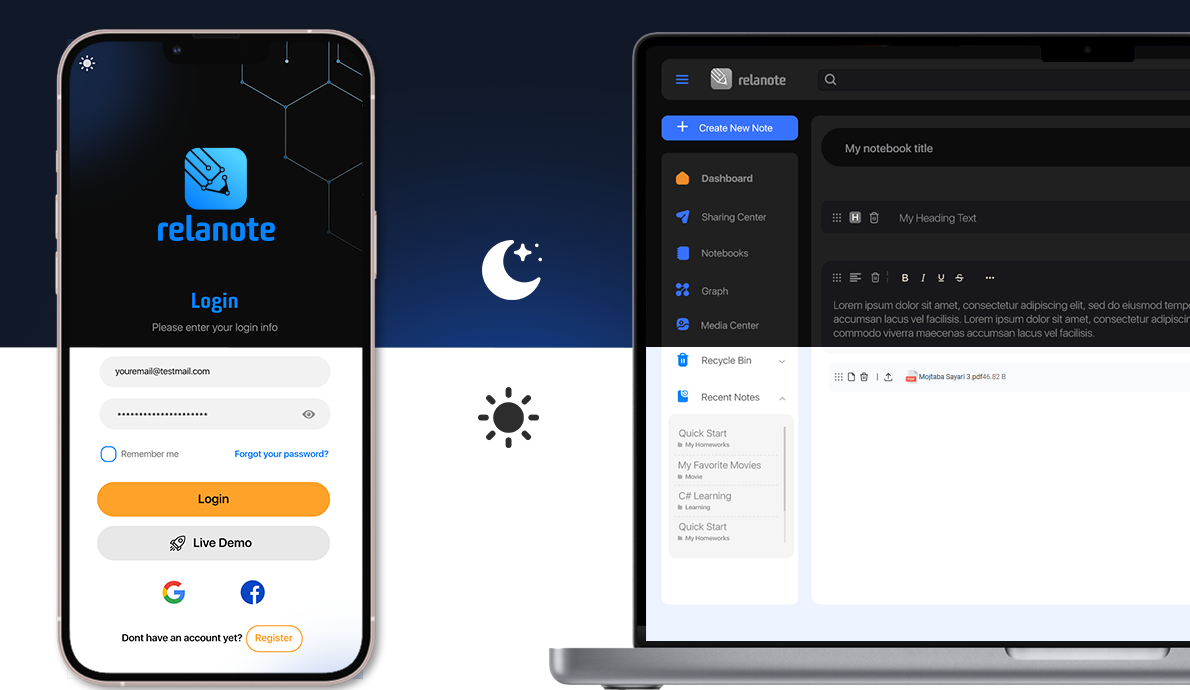 Import
Import notes from Evernote, Obsidian, Roam Research and many others
Export
Export notes in PDF, MD, HTML and JPG
Templates
Ready to use templates
More themes
Choose from various themes that suit your needs better
Backup to Cloud
Backup/sync your notes with Google Drive, iCloud, Microsoft One Drive etc.
Browser extension
It will allow you to save links or entire web pages as Relanote notes with a single click.
Basic Plan
FREE
Only for Personal use. Business/Commercial use is not allowed.
Maximum 100 Notes and 10 Notebooks
Unlimited categories, tags and links
Free iPhone, iPad, Android & Microsoft Apps.
Access/edit notes from anywhere, on any device. Notes sync in real-time across all apps.
AI Tools (4,000 OpenAI API tokens quota per day)

Questions and Answers AI Tool
Generate Content AI Tool
Summarize Content AI Tool
Chat with File AI Tool (query PDF and Docx files)

Add images and file attachments to notes
Daily backup of all your notes automatically to your Google Drive
Export all your notes in HTML, Text or Markdown format, or export in zip format and restore inside Relanote
Graph view with customization
Note edit history and version restoration
Notebook, category and notes recovery with Recycle Bin
Community support
1GB storage
Sign Up for a Free Account
Pro Plan
Black Friday Sale
$9.99 $6.99
/month
$89.99 $53.99
/year
(Save 40% on annual and 30% on monthly plan)
For Personal or Business/Commercial use
Everything in the Free plan +
Unlimited Notes and Notebooks
Private sharing of notes
Public sharing of notes (Example of a publicly shared note)
AI Tools (40,000 OpenAI API tokens quota per day)
Priority Support
10 GB storage
Sign Up for a Pro Account